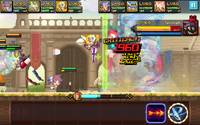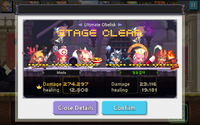 The World Boss game mode (now called Raid) challenges you to battle against a few of the most powerful monsters in the game, who at higher difficulty levels can drop the elusive 6-star weapons. Unlike quest mode, 2 players are to be assigned as a tag team by the random matchmaking system and must cooperate in order to defeat the formidable boss. At the end of the match, a player will be assigned as an MVP, and will receive 2x of the rewards offered by the dungeon he is in. MVP is calculated based on the sum of damage AND total healing done throughout the duration of the boss fight. The world boss changes weekly, cycling between 4 bosses who each offer a different moveset, and along with it an assortment of new dangers.
List of World Bosses
Edit
Each of the following World Bosses can appear every week in a set rotation.
Able to counter-attack
Has a heavy single blow that stuns.

Poison cloud summoned after attacks
Vulnerable to magical attacks
Highest Dps of the four
Physical attacks
Attacks drain players' SP
Vulnerable to physical attacks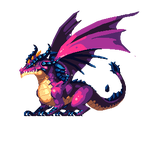 High Armor
Does Physical damage
Summons lightning bolts that deal magic
Does a dive attack that stuns hit heroes
Priests are very useful for this game mode, as the dmg of the Bosses can have a great impact on your heroes' HP, however it is possible to Burst down the boss, but it is not reccomended to Lower Lvl players.
After you have beaten the Weakened version, you will most likely have learned that monster's attack pattern/special skill animation. Use this to your advantage, to time your goddess uses, in sync with the attacks of the World Bosses to beat them easier.
Every Stage of the boss, aside from the ultimate stage is susceptible to stuns, therefore any hero that can consecutively stun such as Sasquatch or Cain can help immensely.
Recommendation
Edit
Heroes Level
Edit
Weakened - Heroes 4-5 Stars, level 40+, Do not have to be trained
Awakened - Heroes 5-6 Stars , level 50+, Do not have to be trained
Ultimate - Heroes 5-6 Stars, Max Level, Doesn't have to be trained.
Ascended - Heroes 6 Stars, Max Level, trained 2-MAX works.
Recommended Goddesses
Edit
World Boss stages always follow the same pattern
| Floor | Floor Name | Meat Cost | Reward |
| --- | --- | --- | --- |
| B1F | Weakened | | |
| B2F | Awakened | | |
| B3F | Ultimate | | |
| B4F | Ascended | | |
Community content is available under
CC-BY-SA
unless otherwise noted.